Print Your Own: Big Grammar Book
101 Free Printable Worksheets
for English Lessons
Book an English class on Skype with an experienced native speaker!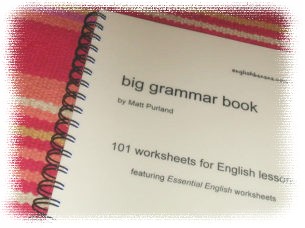 NEW! Get quick access to FREE English Banana material from your mobile device,
including the latest videos, MP3 podcasts, blog posts, and games!
Notes:
You may freely print, copy and distribute English Banana.com materials, subject to our Copying Licence.
All files open with Acrobat Reader, which is a free download.
Files are small (less than 110 KB), apart from the answer section, which is 751 KB.
---
---
---
---
---
---