Matt Purland QTLS, BA (Hons), Cert. Ed (FE), Cert. TESOL -
Matt Purland
Matt Purland is an experienced and effective English teacher with over fourteen years of experience teaching English full-time, in the UK and abroad. His qualifications include a BA Honours degree in Drama from the University of Wales and the Certificate in Education from the University of Derby. In 2016 he was awarded QTLS (Qualified Teacher Learning and Skills) status by the Society of Education and Training in recognition of his wide range of practical experience teaching English.
He is a caring, patient, and client-focused individual, as well as an efficient team player who is able to work well with others to innovate new ideas and procedures. He is experienced in teaching ESL (English as a Second Language), EFL (English as a Foreign Language), and ESOL (English to Speakers of Other Languages) to children, teenagers, and adults, including one-to-one, small groups, and large classes (40+).
Key Skills:
Effective, reliable, and client-focused English teacher

Excellent organisational and administrative skills

Over fourteen years of continuous experience teaching English full-time

Creative thinker who is able to develop and innovate new ideas
Qualifications:
Matt is fully qualified to teach English in the UK (secondary and adult) and abroad. His qualifications include:
QTLS (Qualified Teacher Learning and Skills) status

City & Guilds Level 4 Certificate for ESOL Subject Specialists (9488)

Certificate in Education (FE)

City & Guilds 7307 Teacher Training Stages 1 & 2

Trinity College London Cert. TESOL

BA Honours Degree in Drama

Matt is a Member of the Society of Education and Training
Employment:
Matt has taught English as a Foreign Language in Poland since 2007. He has been employed as an English teacher by the following companies:
Liceum Ogólnoksztalcacego Nr I im. Jana Bazynskiego w Ostródzie (Polish High School)

King's School of English, Ostróda

Up & Up School of Foreign Languages, Ostróda

Mentor Language School, Ostróda

Speak Up School, Olsztyn

English Perfect Language School, Olsztyn

Bell International College, Cambridge, UK
Matt has taught hundreds of hours of business English lessons with a wide range of companies in Poland, including:
Animex

Budimex

Dr. Höhn

IKEA

Oristo

Paged

Saferoad

Siemens
Matt also has extensive experience of teaching English online, with hundreds of hours taught to date via Skype and other platforms, including:
Matt was employed to teach ESOL in Derby and Derbyshire between 2002-2007 by the following companies:
TBG Learning Ltd

Fern Training & Development Ltd

Derbyshire County Council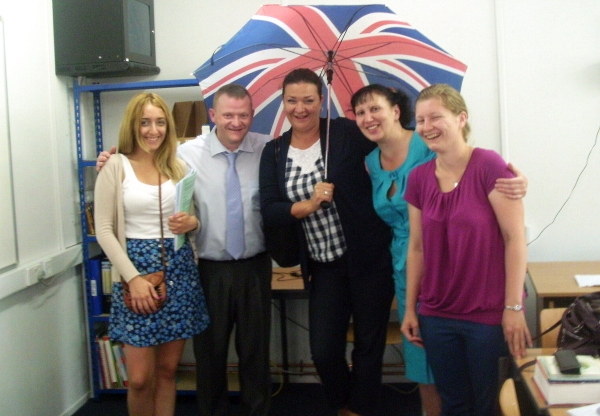 Matt Purland with a group of international teachers at a teacher training course that he organised in Holt, Norfolk, UK
Publications:
Matt is the founder of EnglishBanana.com and writer of all the learning material published on the site. He has written and published 24 books and thousands of printable worksheets for teaching and learning English. His most popular course book is Big Grammar Book, which has been downloaded for free millions of times, and has been the number one most recommended resource on the Guardian Teacher's Network for many months. All this material is available to download for FREE from EnglishBanana.com. You can also buy paperback copies of selected books by Matt from Amazon.
Offer:
Matt offers the following paid services:
Online lessons via Skype - your first lesson will be free!

Face to face lessons at Study English Language Centre in Ostróda, Poland, including conversation, exam practice, business English, pronunciation courses, and much more

Business English courses at your workplace

Translation services: Polish to English

Matt is available to speak about teaching English at conferences (FREE!)
Speaking Engagements:
Matt was a guest speaker at Language Show Live at Olympia in London in 2013

Matt is booked to lead a seminar at NILE@21 in Norwich, UK in August 2016

Matt is booked to lead a seminar at Practical Pedagogies in Toulouse, France in November 2016
Hobbies and Interests:
When not teaching and creating new learning material, Matt enjoys walking in the countryside, cycling, history, film, reading, spending time with his family, and following the fortunes of Derby County FC.
Further Information:
Find out more about Matt here:
Click here to contact Matt for more details!
* top *