Why Free?
I get emails all the time from students and teachers who are grateful for the free resources that are available on this site. Sometimes people are amazed and ask why I have made available so much, at no charge, e.g. the free worksheets, the full-length books, the many podcasts, and the online lessons.
As I've said before, I'm a Christian, so to keep this material online for free and to continue to create new free material is a way for me to give thanks to God for what He has done - and is doing - for me through Jesus Christ.
This site has always been open to everybody; to people of all beliefs - and of none. I can honestly say that it's my sincere pleasure to share these resources with you while I'm able to - and I thank God each day that people are benefiting from my work.
If you are looking for God, and you're interested in finding out more about the Christian faith, I can recommend The Alpha Course from Holy Trinity Brompton Church in London as being a good place to begin. Click the image below to find out more..
Matt Purland, Founder and Writer, English Banana.com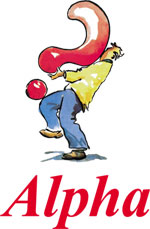 Follow us on Twitter
* top *